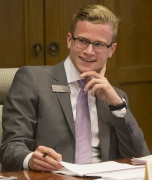 Awards
Wells Senior Recognition Award (2014)
About Christopher Kauffman
Chris Kauffman graduated in May 2014 with a Bachelor of Science in Finance and a minor in Psychology. On the Bloomington campus, he worked extensively on strategic university matters through his three-year engagement with the Board of Aeons, a student research and advisory group that works closely with the Office of the President. He served as President of the board for two years, where he conducted research on the revitalization of Wells Quadrangle, affordability, and innovation at Indiana University. As Student Body Vice President in the Indiana University Student Association, Chris helped to draft changes to and testify before State legislative committees in support of Indiana's Lifeline Law, which provides protections for students in life-threatening situations. Chris was named Homecoming King in 2013, the Wells Senior Award recipient in 2014, and served as the student commencement speaker in May 2014.
In addition to engagement at the university level, Chris was active in the Kelley School of Business and in the Greek community as a member of Beta Theta Pi Fraternity. As a Kelley Scholar, Chris served as the Vice President of Kelley Student Government and as the Co-President of Kelley's Investment Banking Club. He held summer internships with Rothschild Inc. in New York City as an Investment Banking Analyst and PNC Inc. in Chicago as a Debt Capital Markets Analyst. Internationally, he completed coursework at Peking University in Beijing and Oxford University in England, in addition to service work with disabled youth in Cuzco, Peru and a field study on emerging economies in Santiago, Chile.
Post-graduation, Chris joined a team conducting international development research in the Dominican Republic prior to starting his career with Bain & Company as a strategy consultant in Chicago, IL.