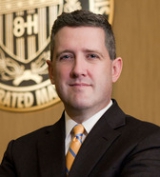 Awards
College of Arts and Sciences Distinguished Alumni Award (2014)
About James Bullard
James Bullard has been president and CEO of the Federal Reserve Bank of St. Louis since 2008 and has been with the Fed since 1990, the year he earned his doctorate in economics from IU.
A noted monetary policy scholar, Bullard has had research articles published in numerous professional journals, including the American Economic Review, the Journal of Monetary Economics, Macroeconomic Dynamics and the Journal of Money, Credit and Banking. He has been a peer reviewer for more than two dozen periodicals and institutions, and he currently is co-editor of the Journal of Economic Dynamics and Control.
As a rotating member of the Fed's monetary policymaking body, the Federal Open Market Committee, Bullard supported quantitative easing in the wake of the recent financial crisis and has raised concerns about the threat of a Japanese-style deflationary trap here in the U.S.
Beyond his work with the Fed, Bullard is an honorary professor of economics at Washington University in St. Louis. A native of Forest Lake, Minnesota, Bullard is a graduate of St. Cloud State University and is a member of the University of Missouri-St. Louis Chancellor's Council, the United Way U.S.A. Board of Trustees and the Greater St. Louis Financial Forum.