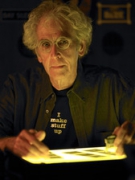 Awards
College of Arts and Sciences Distinguished Alumni Award (2014)
About Jerry Uelsmann
Jerry Uelsmann, an internationally recognized fine arts photographer, has had work exhibited in more than 100 shows all over the world.His surrealistic, allegorical photo montages are in the permanent collections of many museums, including the Metropolitan Museum of Art and the Museum of Modern Art in New York City, the Chicago Art Institute, the Victoria and Albert Museum in London, and the Bibliotheque National in Paris.
Uelsmann was the first photographer to have a one-man exhibit at MOMA. That 1967 exhibit was a turning point in the public's perception of photography, not merely as a tool to document reality but as a medium for artistic expression. Uelsmann won a Guggenheim Fellowship in 1967 and a National Endowment for the Arts Fellowship in 1972. He is a Fellow of the Royal Photographic Society of Great Britain and a founding member of The Society of Photographic Education.
Though he gained fame as an artist, Uelsmann also spent decades as an educator. In 1960, after earning his MFA at IU, he accepted his first job offer and began teaching photography at the University of Florida. He became a graduate research professor of art at the university in 1974 and, though now retired from teaching, still lives in Gainesville.