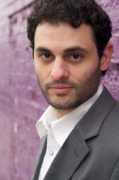 Awards
College of Arts and Sciences Outstanding Young Alumni Award (2014)
About Arian Moayed
Arian Moayed, a cast member on the new TV drama "Believe," is a Tony-nominated actor, artistic director, arts educator and award-winning writer/director for film.
Before landing the role of Corey in the NBC drama co-produced by J.J. Abrams ("Lost") and Oscar-winning director Alfonso Cuarón ("Gravity"), Moayed was nominated for a Tony Award for his portrayal of Musa in Rajiv Joseph's "Bengal Tiger at the Baghdad Zoo." He will soon appear in Jon Stewart's directorial debut, "Rosewater" and has worked with many other notable filmmakers, including Spike Lee, Tom Fontana, Tony Kushner and Scott Rudin.
He is a recipient of the Theater World Award and has been nominated for Drama League and Drama Desk awards. As artistic director of Waterwell, an award-winning nonprofit theater in New York, Moayed has helped create and stage more than a dozen original productions, including "Marco Millions" and "The Persians."
He also administers the Waterwell Drama Program, which is regarded as one of the best public school arts programs in the country. In partnership with the Professional Performing Arts School, Waterwell Drama Program helps provide hundreds of middle and high school students from all economic backgrounds with high-quality training in theater and the performing arts.