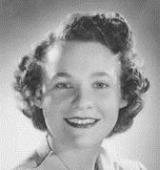 Awards
Maurer School of Law Academy of Law Alumni Fellows (2014)
About Patricia McNagny
Patricia McNagny, class of 1951, has had a distinguished record of work both in the judiciary and as a civic leader. Born in Fort Wayne, Ind., McNagny is the daughter of Ralph Gates, who served as governor of the state from 1945 to 1949. She attended Indiana University and graduated with honors in 1948 with a major in history. She completed her law degree in 1951 and married Phil M. McNagny Jr. during her third year. Phil McNagny went on to a successful career at Gates Gates & McNagny in Columbia City, Ind.
For many years, McNagny primarily worked from home doing wills and estate work while she raised their four daughters. In 1969 she began working with her husband until his death in 1981. The following year, she successfully ran for judge of the Whitley County Court. In 1991, she left the bench to join her daughter Marcia in the practice of law.
During her time on the court, McNagny played an active role bringing new initiatives to the county court system. She introduced community service into criminal sentencing in her county and developed counseling services for violent offenders and drug and alcohol offenders. She promoted GED education to jail inmates and advocated a wider use of work release. She was instrumental in installing computers in the courts and county offices, and worked toward the establishment of a Community Corrections Department.
Active in the local and state bar associations, she served as secretary of the Indiana State Bar Association, and in 1994 she was named a fellow in the Indiana Bar Foundation. She was president of the Peabody Library and served on its board for many years. She was vice chair of the Whitley County Republican Committee and a director of the Whitley County Drug Awareness Program and the Otis R. Bowen Center for Human Services. For her successful campaign to purchase a 100-acre tract of land on Crooked Lake, and for the personal donation of land dedicated as the Crooked Lake Nature Preserve in honor of her father, she was given the Nature Conservancy Oak Leaf Award.