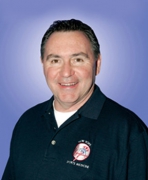 Awards
School of Public Health W.W. Patty Distinguished Alumni Award (2014)
About Eugene Monahan
Eugene Monahan received the W.W. Patty Distinguished Alumni Award. This award is the oldest and most prestigious alumni recognition bestowed by the school to a graduate who has demonstrated outstanding personal and professional achievement in his or her career. Recipients characterize the ideals set forth by the school's first dean, Willard W. Patty. Under his leadership, the school rose to national stature and produced some of the finest professionals in the fields of health, physical education and recreation.
Eugene Monahan graduated cum laude from Indiana University with a Bachelor of Science in Physical Education and an emphasis on professional athletic training in 1969. He served as a Minor League Athletic Trainer for 10 seasons from 1963 to 1972, before transitioning to his role as a Major League Head Athletic Trainer for the New York Yankees from 1973 to 2011 where he served 39 seasons. With the Yankees, Mr. Monahan has made 11 World Series appearances and 7 World Championships.
Mr. Monahan has served as the Committee Chair for the Professional Baseball Athletic Trainers Society Scholarship Committee and as a member of the National Public Relations Committee for the National Athletic Trainers Association. He has received numerous awards including the Lifetime achievement Award from the American College of Sports Medicine in 1995, the Distinguished Service Award from the Professional Baseball Athletic Trainers Society in 1997, and in 2006 was elected to the New York State Athletic Trainers Association Hall of Fame.