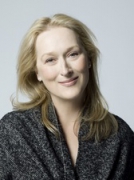 Awards
Honorary Degree (2014)

L.H.D.
Doctor of Humane Letters
Bloomington, Indiana
Presenter: Michael A. McRobbie
About Meryl Streep
Considered by many critics to be the greatest living actress, Meryl Streep is the most decorated actress of her generation, and among the most honored of all time. She has been acting and directing for almost four decades with unparalleled success; the countless nominations and awards her performances have produced speak for her incredible talent in the selection and portrayal of wildly differing roles.
Streep is one of only four actors nominated by the Academy of Motion Picture Arts and Sciences across five decades. She holds the record for the most Academy award nominations and most Golden Globe nominations in history. Streep's numerous honors and awards also include honorary degrees from Harvard University, Princeton University, Yale University, Dartmouth College and Indiana University, the 2010 Presidential National Medal of Art and the 2004 AFI Life Achievement Award.
Though Streep is known worldwide as an actress, she is also a philanthropist who regularly supports various charities. She is the Official Spokesperson for the National Women's History Museum which she also supports through events and financial contributions. She has publicly supported many organizations, including the American Foundation for AIDS Research, Artists for Peace and Justice, Equality Now, Healthy Child Healthy World, St. Francis Food Pantries and Shelters and Women in the World Foundation. Streep's integrity, outlook and intentional desire to help others serve to demonstrate what an incredible role model she is for women of all ages.