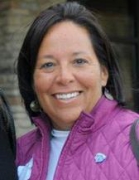 Awards
Bicentennial Medal (2020)
Distinguished Latino Alumni Award (2017)
IUAA President's Award (2014)
About Alice Jordan-Miles
Alice Jordan-Miles, a lifelong resident of Fort Wayne, has served her community and Indiana University with energy, commitment and enthusiasm. One recommendation letter for her service award, written by Martin Vargas, president of the IU Latino Alumni Association, lists three words that describe her: inspiring, humble and lifesaving.
Jordan-Miles earned IU degrees in criminal justice and education and has put her degrees to work in suicide prevention, mentoring and service. Her 30 years of community involvement include advising youth from at-risk communities. Along with the Northeast Indiana Alumni chapter, she founded the Hoosiers of Tomorrow mentoring program, which matches local alumni with high school students interested in attending IU. Currently, she provides community leadership for concerns related to behavioral health and family studies.
The first in a family of 13 to obtain a college degree, Jordan-Miles has served her alma mater as president of the Latino Alumni Association, as a member of the IUAA Executive Council and as a recommender to the IU Groups program. She is a recipient of the IUAA's President's Award.
In her community, Jordan-Miles has been honored with several professional awards, including the 2011 Allen County Professional Women of Color Association's Woman of Honor Award and the 2012 Fort Wayne Top 101 Connectors by the Greater Fort Wayne Business Weekly.