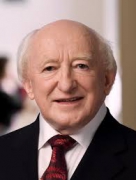 Awards
Honorary Degree (2014)

L.H.D.
IUB Commencement
Bloomington, Indiana
Presenter: Michael A. McRobbie
About Michael D. Higgins
Michael D. Higgins was born in Limerick and was raised in County Clare. He was a factory worker and a clerk before becoming the first in his family to complete a college education. He studied at the University College Galway in Ireland, the University of Manchester in the United Kingdom, and here at Indiana University, where he earned a master's degree in sociology in 1967.
As a lecturer in political science and sociology at the National University of Ireland, Galway, and in the United States, Michael D. Higgins became a passionate proponent of extending access to higher education beyond the walls of established universities. At the National University of Ireland, Galway, he was centrally involved in the development of extramural studies, and he traveled extensively across the west of Ireland to establish accessible evening classes for interested citizens.
A desire to work directly for equality and justice led Michael D. Higgins to enter public life, and he began serving as a public representative at increasing levels of responsibility, from local councilor, to Mayor of Galway, to nine years in the Seanad (the upper house of the Irish parliament), to 25 years in Dáil Éireann (the lower house and principal chamber) before being elected President in 2011.
As Ireland's first Minister for the Arts Culture, and the Gaeltacht, from 1993 to 1997, Michael D. Higgins reinvigorated the Irish film industry and established Irish-language television (Teilifís na Gaeilge, now TG4). He also formed a rich network of local arts and cultural venues, offering access to citizens across Ireland to these essential facilities. Moreover, he drove the revitalization of Ireland's canal network, resulting in more than 1,000 kilometers of navigable waterways, supporting thousands of jobs, and creating wealth in many rural and economically deprived areas.
President Higgins has, like many in Ireland, seen generations of his family emigrate. He has a strong interest and solidarity with the Irish abroad and has been a regular visitor to Irish centers in Britain.
Throughout his life, Michael D. Higgins has campaigned for human rights and for the promotion of peace and democracy in Ireland and in many other parts of the world, including Nicaragua, Chile, Cambodia, Iraq, and Somalia. In 1992, he was the first recipient of the Seán MacBride Peace Prize from the International Peace Bureau in Helsinki, in recognition of his work for peace and justice in many parts of the world.
Michael D. Higgins is also a writer and poet, contributing to many books that cover diverse aspects of Irish politics, sociology, history, and culture. For 10 years he was a regular columnist for Hot Press magazine, covering the social issues of the day for a young audience. He has published two collections of essays: Causes for Concern—Irish Politics, Culture and Society and Renewing the Republic. He has also published four collections of poetry: The Betrayal, The Season of Fire, An Arid Season, and New and Selected Poems.