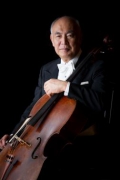 Awards
Thomas Hart Benton Mural Medallion (2014)

50th Anniversary Celebration of IUAA Japan Chapter
Presenter: Michael A. McRobbie
About Tsuyoshi Tsutsumi
Born in Tokyo, Tsuyoshi Tsutsumi's early training with Hideo Saito led him to his debut at the young age of 12 with Tokyo Philharmonic, performing the Saint-Saens concerto. Appearances with Japan's leading orchestras followed, as did several major prizes, including the Japan's most prestigious; the Mainichi (Japan) Music Competition. Tsutsumi came to IU in his late teens to study at the Jacobs School of Music with renowned cellist Janos Starker on a Fulbright Scholarship. Within a couple of years, he became Starker's assistant and earned an artist's diploma from the Jacobs School in 1965.
After a successful concert career with many of the world's leading orchestras, he taught at the University of Illinois before joining the faculty of Indiana University as Professor of Music in the fall of 1988, a position he held until 2006.
Tsutsumi has various CD releases with Sony and Meister Music. He is also known as a recipient of the Suntory Award for his contribution to music in Japan and was presented National Academy of Arts Prize in music by the Emperor. In 1997, he was elected the first President of Japan Cello Society, and in 2000 elected Music Director of Kirishima International Music Festival and President of Suntory Music Foundation. He was also elected the President of Suntory Hall in September 2007 and he was the President of Toho Gakuen School of Music for nine years. In 2009, he was awarded Japan's Medal with Purple Ribbon, the highest honor in Japan, for his contributions to academic and artistic developments, improvements and accomplishments. He has also been a member of the Japan Art Academy since December 2009.