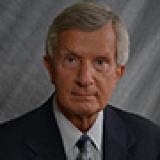 Awards
McKinney School of Law Distinguished Alumni Award (2014)
IUPUI Spirit of Philanthropy Award (2005)
About James Burns
James Burns is a magna cum laude graduate of IU McKinney. Prior to joining the Ice Miller firm as senior counsel, he spent 28 years at Eli Lilly and Company, retiring as the company's assistant general counsel. At Lilly, Burns managed company litigation dealing with product liability, intellectual property, antitrust, human resources, and general commercial litigation. Burns also served as general counsel at Elizabeth Arden, Inc., and at Elanco Products Company in New York City.
He is active in the area of tort reform, and served on the board of directors of the American Tort Reform Association and the Product Liability Advisory Council. He played an active role in the formulation of the Restatement of Law-Third relating to pharmaceutical products.
In addition, Burns has been active as an alumnus of the school, volunteering his time to work with students. He also has been instrumental in coordinating the annual Continuing Legal Education program, which has taken place at the law school every year since 2001. The proceeds from this effort fund scholarship programs for law students. He has been a member of law school's Board of Visitors since 1999, and has served as the board's chair.