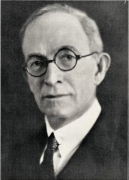 Awards
Honorary Degree (1929)

LL.D.
Doctor of Laws
Bloomington, Indiana
Presenter: William Lowe Bryan
About Lafayette Page
Dr. Lafayette F. Page was born in Columbia, Kentucky on May 21, 1863. Dr. Page was the son of Robert Page and Mary (Irvine) Page, both born in Charlottesville, Virginia. Educated in Columbia, Kentucky public schools and by private tutors, Lafayette Page went on to earn a Bachelor of Arts from Columbia Christian College. In 1885, his medical studies at the medical department of Louisville University began and continued in Indianapolis where he entered the Indiana Medical College of Physicians and Surgeons from which he graduated in 1885 with his M.D. degree. He was awarded the Mears Gold Medal as a special honor and earned through competitive examination after graduation the opportunity to be appointed as an interne at the City Dispensary in Indianapolis for one year. Dr. Page then began 2 years of general practice after this internship and by 1891, he began to develop expertise in the nose, throat, and ear and pursued post-graduate work in New York and Vienna, Austria to perfect his knowledge of pathology and treatment in these areas. From 1891 onward, he concentrated his medical practice exclusively on the diseases of the nose, throat, and ear and gained wide recognition for his skill and success in this area. Dr. Page pursued further graduate work in Berlin and Vienna in 1913.
On July 22, 1916, the Hoosier poet, James Whitcomb Riley, died. Dr. Page, an intimate friend of the poet, was among other close friends of Riley who convened for the next year as the Riley Memorial Committee to come up with an idea for how to honor the memory of James Whitcomb Riley. In the summer of 1917, only months before he sailed off to serve on the medical staff for the Colonel Eli Lilly Memorial Red Cross Hospital, also known as United States Army Base Hospital 32, in Contrexeville, France, Dr. Page presented the idea of a children's hospital as a possibility for the James Whitcomb Riley Memorial Committee to consider as a way to honor the famed Hoosier poet. The Committee had been exploring various ideas since Riley's death, but it was Dr. Page's idea of a children's hospital that captured the imaginations and enthusiasm of the Committee.
Dr. Page also was present and served as secretary at the first official organization meeting for the James Whitcomb Riley Memorial Association on August 19, 1917 that laid the foundation for future action that was postponed until after World War I by the Association to begin efforts to promote, plan, and build the James Whitcomb Riley Hospital for Children. On September 1, 1917, Dr. Page and other physician leaders from the IU School of Medicine entered Fort Benjamin Harrison for 3 months of military training and sailed off in early December 1917 to military service in Contrexeville, France at Base Camp 32.
Dr. Page and other staff finally arrived at Hospital Base Camp 32 in late December 1917 and the Camp received its first contingent of patients in March 1918. At Base Camp 32, Dr. Page (a surgeon with the rank of Major) was in charge of the Nose, Throat, and Ear Department.
There, Dr. Page developed an innovative treatment for gas inhalation, which resulting in near immediate improvement of patients. The initial use of the treatment resulted in only two deaths among the over 6,000 individuals treated at Base Camp 32. His treatment was so successful that it was recognized as the standard practice by the American, British and French forces. Other hospitals, including Johns Hopkins, sent staff to Base Camp 32 to observe the method of treatment. During its term of service, Base Hospital 32 treated 9,698 patients, and only 118 died.
Dr. Page was a Professor of Otolaryngology at the Indiana University School of Medicine and a staff member of Long, Coleman, and Riley Hospitals. He was a member of the American Medical Association, the Indiana State Medical Society, and the Indianapolis Medical Society, over which he presided as president in 1922.
When he returned home from France in April 1919, he and other members of the James Whitcomb Riley Memorial Association wasted no time and picked up where they left off to undertake the challenges of making the James Whitcomb Riley Hospital for Children. Dr. Page was named a member of the Joint Executive Committee tasked with the responsibility of promoting, planning, fund-raising, building, and operating the hospital and which had its first meeting on April 2, 1921. On April 9, 1921, Dr. Page became one of the 21 Incorporators of the James Whitcomb Riley Memorial Association. When the James Whitcomb Riley Hospital for Children opened on November 19, 1924, Dr. Page, along with Drs. John H. Oliver, Chairman of the Department of Surgery, and John Finch Barnhill, Chairman of the Department of Otolaryngology, worked together to supervise medical care of children at the hospital. Dr. Page's contributions to Riley Hospital for Children are honored with a memorial plaque in the original lobby of the hospital. He received the Honorary Doctor of Laws from Indiana University shortly before his death on July 14, 1929.