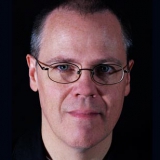 Awards
Guggenheim Fellow (1992)
About John Gibson
John Gibson's acoustic and electroacoustic music has been presented in the US, Canada, Europe, South America and Asia. His instrumental compositions have been performed by many groups, including the London Sinfonietta, the Da Capo Chamber Players, the Seattle Symphony, the Music Today Ensemble, Speculum Musicae, Ekko!, and at the Tanglewood, Marlboro and June in Buffalo festivals. Presentations of his electroacoustic music include concerts at the Seoul International Computer Music Festival, the Bourges Synthèse Festival, the Brazilian Symposium on Computer Music, the International Biennial for Electroacoustic Music of Sao Paulo, Keio University in Japan, the Third Practice Festival, the Florida Electroacoustic Music Festival, and several ICMC and SEAMUS conferences.
Among his grants and awards are a Guggenheim Foundation Fellowship, a Charles Ives Scholarship from the American Academy and Institute of Arts and Letters, two ASCAP Foundation Grants, and the Paul Jacobs Memorial Fund Commission from the Tanglewood Music Center. Recordings of his music appear on the Centaur and Everglade labels.
Gibson holds a Ph.D. in music from Princeton University, where he studied with Milton Babbitt, Paul Lansky, Steven Mackey and others. He writes sound processing and synthesis software, and taught composition and computer music at the University of Virginia, Duke University, and the University of Louisville, before becoming Assistant Professor of Composition at the Indiana University Jacobs School of Music.