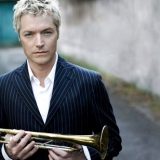 Awards
Distinguished Alumni Service Award (2016)
Grammy Award (2013)

Best Pop Instrumental Album
About Chris Botti
IU's legendary jazz instructor, the late David Baker, encouraged Chris Botti to leave school in 1984 to take a job playing in Frank Sinatra's backup band.
"It's nice when they (graduate)," Baker said in a 2006 article in the Indiana Alumni Magazine. "But if they're ready to go play, they should go."
Botti went -- and has since become the largest-selling American jazz instrumentalist, garnering numerous awards. His album "Impressions" won the 2013 Grammy Award for Best Pop instrumental Album.
After studying with Baker and Bill Adam at IU, Botti has gone on to a career that includes performances with Sinatra, Natalie Cole, Paul Simon and Sting, along with a stellar solo effort. He has also performed with many symphony orchestras in the U.S. and abroad.
Botti frequently talks about his time at IU at concerts.
"I'm really glad I went to Indiana," he said in the IAM article. "On Friday and Saturday nights, I never went out. I practiced my instrument. The reality is that most musicians are not really well-rounded people. It's music and the trumpet. That's really all I ever wanted to do. It's all I've known."