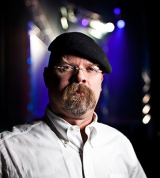 Awards
Bicentennial Medal (2020)
College of Arts and Sciences Distinguished Alumni Award (2012)
About Jamie Hyneman
Jamie Hyneman is a special effects expert, inventor and popular co-host of Discovery Channel's hit television series "MythBusters." Praised by science educators and profiled in The New York Times, "MythBusters" features Hyneman and his co-host Adam Savage systematically investigating urban legends, popular myths and the real-world plausibility of feats depicted in entertainment media. From pond-skipping sports cars to cell-phone germ counts to various substances' explosive capabilities, the team conducts carefully controlled experiments that conclude when myths are declared "Confirmed," "Plausible" or "Busted."
The show has earned the attention of President Barack Obama, who appeared as a guest star on an episode called "Archimedes Death Ray" in 2010.
Born in Marshall, Michigan, and raised in Columbus, Indiana, Hyneman graduated from IU Bloomington with a degree in Russian language and linguistics through the Individualized Major Program. He has traveled various career paths, including wilderness survival expert, linguist, animal wrangler, machinist and cook.
After several years of working as a boat captain and diver in the Caribbean, he returned to the U.S. in the late 1980s and signed on at Colossal Pictures, producing special effects for more than 800 commercials and for feature films, including "Bram Stoker's Dracula," "Flubber," "Naked Lunch" and "Robocop."
In the late 1990s, he became owner of M5 Industries and made his first foray into television when Blendo, a robot designed by Hyneman and the M5 Industries team, became a popular competitor on the show "Robot Wars."
Hyneman has worked with the U.S. military to develop new safety concepts for military vehicles. He holds a number of patents and was part of the team that designed the aerial robotic camera system Wavecam, used in sports and entertainment events.
Hyneman holds two honorary doctorates: one in engineering from Villanova University and one for popularization of science and technology from University of Twente in the Netherlands.