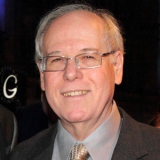 Awards
Oscars (1991)

Best Original Screenplay
About Bruce Joel Rubin
Bruce Joel Rubin was born on March 10, 1943, in Detroit, Michigan. He spent time traveling to Greece, India, Tibet, and Nepal, where he explored religion and culture. He was married to Blanche Mallins, and returned to the Midwest to earn his graduate degree at Indiana University before relocating to Los Angeles.
Rubin expresses a fixation on matters of life and death; or more specifically, on the afterlife and cognition immediately before death. As a writer, he has explored the human psyche in original ways, pushing both the limits of human thought and understanding, as well as the limits of filmmaking as a story-telling device. His screenwriting career has left marks both artistically, as well as in the realm of mainstream entertainment values, and has received awards for several motion pictures bearing his name in the credits.
His film credits date back to 1970, when he co-directed (with Brian De Palma and Richard Schechner) a pseudo-documentary of a series of stage performances entitled Dionysus. He wrote the stories for both Brainstorm (1983), and director Wes Craven's Deadly Friend (1986). Twenty years after his first film credit, he wrote two brilliant screenplays, both in 1990. One of these films was the artistically acclaimed Jacob's Ladder, directed by Adrian Lyne and starring Tim Robbins. Ghost, the devastating love story starring Patrick Swayze, Whoopi Goldberg, and Demi Moore, earned Rubin an Oscar for Best Screenplay in 1991. Rubin's script for Deceived was made into an action-thriller starring Goldie Hawn. Two years later, he wrote and directed My Life, depicting a man's memoirs as he collected them for the child his wife was still carrying. The film starred Michael Keaton and Nicole Kidman.
Rubin's Hollywood film credits additionally include a writing credit alongside Michael Tolkin on Deep Impact in 1998. He also wrote the screenplay for the film Stuart Little 2 (2002), based on the classic children's story by E.B. White.