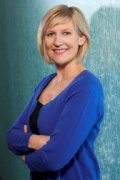 Awards
College of Arts and Sciences Distinguished Alumni Award (2015)
About Sue Naegle
Sue Naegle leads her own TV and feature film development company, Naegle Ink, which is currently working on projects for HBO, Cinemax, ABC and CBS, in addition to optioning several novels for film adaptations.
After graduating from IU in 1991 with a Bachelor of Arts degree and a major in telecommunications, Naegle started in the mailroom at United Talent Agency. She rose to become a partner and co-head of the agency's television department and worked closely with notable writers and directors like Alan Ball and Judd Apatow. In 2008, she became president of HBO Entertainment, where she oversaw the development and production of critically acclaimed series like "Treme," "Boardwalk Empire" and "Game of Thrones."
Naegle has a reputation for nurturing new talent, as well as for championing greater representation of women and members of racial and ethnic minorities both in the film and TV industry itself and in the shows those industries create.