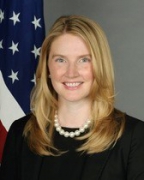 Awards
Bicentennial Medal (2019)
College of Arts and Sciences Outstanding Young Alumni Award (2015)
About Marie Harf
Marie Harf is the deputy spokeswoman for the U.S. Department of State. She can often be seen on nightly news broadcasts fielding questions about Iran, North Korea and Ukraine.
The daughter of two IU alumni, Harf majored in political science while at IU, earning her Bachelor of Arts with honors in 2003. She went on to receive her master's in foreign affairs from the University of Virginia before accepting a job as a Middle East analyst and, later, spokeswoman for the CIA.
She has since served as an advisor and spokeswoman on national security issues for President Barack Obama's 2012 re-election campaign and then as spokeswoman and advisor for Chuck Hagel during his secretary of defense confirmation.