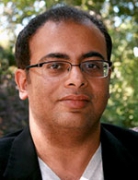 Awards
Distinguished Asian/Pacific American Alumni Award (2009)
About Anurag Mendhekar
Anurag Mendhekar earned a master of science degree in 1994 and a doctorate in 1998, both in computer science, from IU. He also has a bachelor's degree from the University of Mumbai (formerly Bombay University) in India and a master's degree from the Indian Institute of Science.
He has contributed to the field of computer science as an entrepreneur, founding three successful companies. His first start-up company, Online Anywhere, was the first firm to create the whole new market category of content transformation tools for Mobile and non-PC devices. The success of the company was demonstrated through its acquisition by Yahoo!. As a key executive of Yahoo! Everywhere, Mendhekar developed a global business around Yahoo!'s Mobile Internet services, achieving distribution through almost 40 different wireless carriers to serve millions of people around the globe.
He began his career at Xerox's Palo Alto Research center, where he was one of the inventors of Aspect Oriented Programming, a rapidly spreading paradigm of programming that forms the core of products produced by his current firm, Blue Vector Systems.
Along with several scientific publications to his credit, Mendhekar has been awarded six patents, with several more pending. In 2008, he was named the "2008 Pro to Know" by Supply & Demand Chain Executive magazine. Blue Vector also was recognized last year by the Silicon Valley/San Jose Business Journal with its Emerging Technology Award.
Among his personal successes came in 2001, when a friend and coworker needed a bone marrow transplant. Mendhekar organized several drives for bone marrow donors in Northern California and his efforts were significant as the number of bone marrow donors available for the South Asian community makes up a tiny percentage of the 4.5 million donors registered on the National Bone Marrow Registry, often leaving those of South Asian origin with no potential matches.