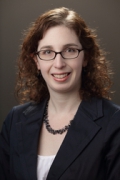 Awards
Lieber Memorial Associate Instructor Award (2015)
About Alyssa Lederer
Alyssa Lederer received a dual BA in Health and Society and Women and Gender from the University of Virginia in 2004, and an MPH in Behavioral Sciences and Health Education from Emory University Rollins School of Public Health in 2008. She also completed a Center for Health, Culture, and Society Fellowship in the Laney Graduate School during the 2006-2007 academic year. Lederer is currently earning a PhD in Health Behavior at Indiana University School of Public Health-Bloomington. Her research interests are intervention design, program evaluation, and mixed methods research in adolescent sexual health.
Alyssa's teaching aptitude, communication skills, attention to detail, and deep commitment to ensuring students are successfully meeting course objectives consistently impresses her colleagues. Her current teaching areas are human sexuality and public health program planning. "The complex nature of health behavior theory often overwhelms students; however, Alyssa has been able to ease students' concerns through her effective teaching methods, relating course material to real-life scenarios, focusing on application of course content, and demonstrating the significance of what students are learning for their future careers." Alyssa also explores the intersection of health education and behavior change as well as college pedagogy research. She co-developed a full semester pedagogical training course required for Associate Instructors that includes additional supplemental professional development programming throughout the year. This course, titled SPH-H750: Pedagogy in Health Behavior, will soon be integrated into the department's curriculum as a regularized course.
Alyssa's honors and recognitions include numerous certifications and supplemental training, publications and recognized selected presentations. She has been awarded several significant research grants and she is a board member of Emory University's Rollins School of Public Health Alumni Board. Lederer was also recently asked to serve as the sole student member of the Founding Editorial Board for the new peer-reviewed journal Pedagogy in Health Promotion: The Scholarship of Teaching and Learning published by the Society for Public Health Education, an exceptional accomplishment. In addition to receiving the Indiana University Lieber Associate Instructor Award she also received the Midwest Associate of Graduate Schools Excellence in Teaching Award in the doctoral category in 2015.