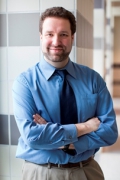 Awards
Lieber Memorial Associate Instructor Award (2015)
About Daniel O'Neill
Daniel O'Neill covers a lot of ground as an Indiana University graduate student and associate instructor. He is a dual-program doctoral student, in what may be thought of as the divergent fields of education and medicine. And he teaches in both disciplines, excelling in both.
O'Neill's supervisors have noted that he exemplifies everything that one could want in an associate instructor. He has been described as a model for graduate students across the university. In every course that he has taught, O'Neill has gone above and beyond the general requirements. The positive impact that he has had on more than 1,000 students has been well documented in their course evaluations.
With seven years of teaching experience at IU, O'Neill serves as primary instructor for sections of P312 Learning and Cognition, a theory-to-practice course for undergraduates in the School of Education. And in the area of medical sciences, he teaches Gross Anatomy Lab for the Indiana University Center for Anatomical Sciences Education, a partnership of the IU School of Medicine and the Marian University School of Osteopathic Medicine.
He has also served as a graduate assistant for a graduate-level Lifespan Development course in the School of Education and as a lab instructor for various School of Medicine courses in anatomy, medical neuroscience, and human tissue biology. O'Neill says his philosophy is that teaching and learning should be fun, but that doesn't mean they should be without difficulty or even hardship.
"The greatest feeling that I know is watching a student make the critical connection that brings everything together," he says. "Regardless of the student's level of mastery in the content area, that moment is always beautiful."
Indeed, O'Neill manages the unusual feat of winning students' respect while insisting they work hard and challenge themselves. He receives some of the most favorable course evaluations while simultaneously maintaining rigorous expectations. He holds students to exceptionally high standards, and students not only appreciate this, but many rise to the challenge.