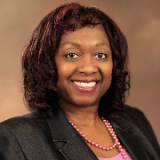 Awards
Bicentennial Medal (2020)
W. George Pinnell Award for Outstanding Service (2015)
About Dorothy Ige Campbell
Dorothy Ige Campbell earned a BS in Speech Education from Southeast Missouri State University in 1971. She graduated from Central Missouri State University in 1973 with a Master of Arts in Speech Communication and then earned her PhD in Speech from The Ohio State University in 1980. Professor Ige spent four years as an assistant professor and the Director of the Speech Program at Bowling Green State University and in 1985 became a tenured professor and graduate faculty member at Indiana University in the Department of Communication at Indiana University.
Dorothy is recognized by her students for having a "positive impact on their personal and academic development" during their time at IU Northwest. She has been a model for service to the university and to the greater community through her active engagement in over 200 lectures and presentations on Effective Communication and Diversity Communication. She is the founder of the Department of Communication and served as its first Chairperson, the founder of the department's Speech Forum, and a co-founder of the department's "Communication Week." Professor Ige also established the department's first Internship Program, created a capstone class to prepare students for work after graduation, and was instrumental in establishing an African American Student Scholarship in an effort to increase retention in Gary, IN and other surrounding communities.
Professor Ige's honored recognitions include the IUN Trustees Teaching Award Winner (2012), CISTL Fellow & Online Fellow Grant Awards (2012-14), Urban League & Gary Life Edu.Initiative, Inc. for Teaching Youth Recognition (2011), IU Dons Outstanding Educator (2004), IUN Teaching Educator Recognition Award [TERA] (1998), Faculty Colloquium on Excellence in Teaching (FACET) Award (1994), IUN Campus Teaching Award (1991), and the "Best Teacher" Recognition - Bowling Green St. University (1982 & 1983). Dorothy has produced over 25 publications and over 30 conference papers on improving communication skills with a focus on improving multi-cultural/religious communication. She has also been the recipient of one external grant and eight internal grants that have enabled her research on improving communication skills and multi-cultural/religious communication.
In 2020, Dorothy Ige Campbell was presented the Bicentennial Medal for her distinguished service to Indiana University.