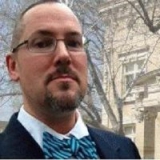 Awards
Bicentennial Medal (2021)
Herman Frederic Lieber Award (2015)
About James VanderVeen
James Michael VanderVeen received his BA in Anthropology from Albion College in 1996. He received his MA in Historical Anthropology in 2005 and his PhD in Archaeology and Social Context in 2006, both from Indiana University Bloomington. Dr. VanderVeen has taught at Indiana University since 2002, and has been a full-time faculty member at IU South Bend since 2006.
Dr. VanderVeen's reputation as an outstanding instructor stems from his multi-faceted approach to engage student inside and outside of the classroom. "His creative use of technology, interactive classroom environment, and active-learning assignments stimulate individual thinking and real life applications of course material." In 2011, Dr. VanderVeen was jointly awarded an IU South Bend Assessment Grant to test the effects of Technology-Enabled Active Learning (TEAL); his success in documenting the learning benefits of TEAL has led to further presentations through the Center for Distance Education (CDE) and the University Center for Excellence in Teaching (UCET). Dr. VanderVeen consistently develops unique innovative active-learning assignments for his classes, including his Quick Hits publication "Let students Design the Test." Through this experiment, "students became stakeholders in their education, deciding as a whole what was important to learn and then using what they made to document their understanding of the material."
Dr. VanderVeen's honors and recognitions include many research awards and research grants, including the Harold K. Schneider Economic Anthropology Paper Prize from Indiana University (2005) and the New Frontiers in the Arts & Humanities Grant from the Lilly Endowment and Office of Research at Indiana University (2008). He has more than fifteen years of research experience, published works, governmental reports and professional conference presentations. He has organized and chaired symposia and colloquia, including the 75th Annual Meeting of the Society for American Archaeology (2010) and the 122nd Annual Meeting of the Indiana Academy of Science (2006).