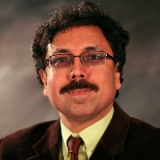 Awards
Frederic Bachman Lieber Memorial Award (2015)
Fulbright Award (2015)
About Subir Bandyopadhyay
Subir K. Bandyopadhyay received a BS degree in Mechanical Engineering from India's Jadavpur University, a Master's degree in Sales and Marketing Management from Bharatiya Bhavan, a Master's degree in Business Administration from the Indian Institute of Management Calcutta, and a PhD in Marketing from the University of Cincinnati.
Dr. Bandyopadhyay has been teaching at Indiana University Northwest for the last fifteen years. His research interests focus on the scholarship of teaching and learning, retailing strategy, international marketing, online and social media marketing, and brand management. An outstanding communicator, faculty and students view his lectures as "well thought out, structured and executed, serving primarily as a catalyst to generate class discussion. Dr. Bandyopadhyay's pedagogical acumen fascinates students as he explains buying behavior, environment influences and cognitive dissonance, relating them to everyday situations that they can grasp." In 2008, Dr. Banyopadhyay was inducted into FACET, a community of faculty dedicated to excellence in teaching and learning; advocating pedagogical innovation that fosters personal renewal in the commitment to student learning.
Dr. Bandyopadhyay has received numerous honors and awards from Indiana University Northwest, including the Diversity Champion Award (2014), Trustee Teaching Award (2013), EVCAA Award for Distinguished Scholarship/Creative Activity (2012), Mercantile/Harris Bank "Outstanding Teacher" Award (2012), and the Diversity Advocate Award (2012). Indiana University Northwest has also recognized Dr. Bandyopadhyay as a Bender FACET Fellow (2011), a Mack Fellow (2010) and an International Exchange Scholar (2007). External honors and recognitions include the Royal Bank Teaching Innovation Award (1997), an Honorary Distinguished Visiting Professorship from the Xi'an Statistical Institute at Xi'an, China (1995), the Best Paper Award at the 5th International Conference on Marketing and development in Beijing (1995) and a National Scholarship from the government of India (1975).