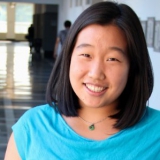 Awards
Kate Hevner Mueller Outstanding Senior Award (2013)
About Ashley Yu
Originally from Columbus, IN, Ashley Yu graduated with a Bachelor of Science in Business, with concentrations in Marketing, Management, and International Business. While an undergraduate, Yu was active on IU's campus as a member of Kelley Student Government, the Global Sales Leadership Society, and the Undergraduate Leadership initiative. Yu was also a member of the Indiana University Swim Club.
Yu gained international experience during her undergraduate career by studying International Business in an IU program with the Danish Institute for Study abroad. Her professional experience began with a Sales Associate position with Eddie Bauer, which she followed with an Solutions Design internship at ExactTarget. Yu also worked as the Real Whirled Sales Development intern at Whirlpool Corporation.
After graduating from IU, Yu accepted a position with Anheuser-Busch InBev as a Global Management Trainee. After completing her trainee period, Yu was promoted to Associate Brand Manager for Budweiser.