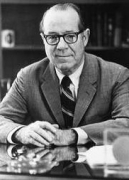 Awards
Honorary Degree (1977)

LL.D.
Doctor of Laws
Ernie Pyle Hall Rededication
Bloomington, Indiana
Presenter: John William Ryan
About Louis Arthur Weil, Jr.
Louis A. Weil, Jr. is a member of a newspaper family. His father was a co-founder in 1900 of the Port Huron (Mich.) Herald, which later became the Port Huron Times Herald. His son, Louis A. Weil, III, is president of the Detroit News in Detroit, Michigan, and a member of the Operating Committee that manages the Gannett Co.
Mr. Weil was born in Port Huron, Michigan, and graduated from Port Huron High School and the University of Michigan. During his active career he was publisher of newspapers at Grand Rapids and Lansing, Michigan, and Lafayette, Indiana. He was president of Federated Publications, Inc., a company operating newspapers in Michigan, Indiana, Idaho and Washington State, at the time of its merger in 1971 with the Gannett Co. From 1971 to 1978, he served as an officer and member of the board of directors of Gannett.
Over a period of years, Mr. Weil was president of the Inland Daily Press Association, the nation's largest regional group, and was chairman of the Newspaper Advertising Bureau of the American Newspaper Publishers Association. He also was a member of the board of directors of ANPA for eight years. During this time, he was the recipient of the University of Minnesota Award for distinguished service to journalism.
He retired in 1978. Currently, he lives in Lafayette, Indiana. In addition to his son of Grosse Pointe Farms, Michigan, he has a daughter, Mrs. John A. Sheridan, of Lac du Flambeau, Wisconsin, and 14 grandchildren. (His wife, Kathryn H. Weil, and a daughter, Mrs. James C. Shook, are deceased.)
His a member of the Lafayette Country Club, the Paradise Valley Country Club of Scottsdale, Arizona, and the Balboa Club of Mazatlan, Mexico.