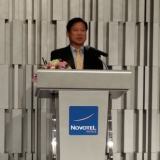 Awards
IU Bloomington Distinguished International Alumni Award (2014)
About Young Pyoung Kim
Kim received an MPA degree from the Seoul National University in 1973 and a Bachelor of Law from Korea University in 1966 before going on to complete his doctoral work in political science at IU with a specialization in public administration. Kim was selected as a Fulbright Scholar in 1989 and was a visiting researcher for one year at the Workshop for Political Theory and Policy Analysis at IU, an institute founded by Eleanor Ostrom, the 2007 Nobel Laureate in economics.
Since then, Kim has actively been actively engaged in the teaching and research of Korean government and public administrative fields. Among other positions in the public arena, he has served as; President of the Korean Association of Public Administration, President of the Korea Institute of Public Administration (government think tank), Founder of the Korea Association of Policy Studies, serving as its first editor-in-chief from 1992 to 1994.
Over the span of 30 years, Kim has written 20 books and numerous articles on public administration studies.
He has been instrumental in bringing about government administrative innovation as an advisory and committee member of government institutions since 1998, when Korea was facing some its most challenging economic difficulties. He was a member, chairman and advisory member of more than 30 committees in the administration for over 20 years serving four different presidents of Korea.
While serving as the chairman of the Postal Service steering committee with the Ministry of Information and Communication, he built the foundation of the New Korea Post in 2006 that competed with the private sector. He also chaired the committee that settled the dispute over the government Nuclear Power Site under the Roh Administration.
Kim is married to Jae Ok Koo who received a master's degree in home economics from IU Bloomington as well. She had a successful academic career as a professor until her recent retirement.