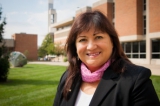 Awards
Distinguished Latino Alumni Award (2014)
About Monica Medina
Medina is associate director of the Center for Urban and Multicultural Education and a senior clinical lecturer in the IU School of Education in Indianapolis. She earned three degrees from IU: a Bachelor of Arts in speech pathology and audiology in 1977, a Master of Science in higher education and student affairs in 1979 and a doctorate in education in 2012.
A recipient of the Indiana Latina Educator of the Year Award in 2013, Medina has been active in Indianapolis, serving as chair of La Plaza and as executive director of The Hispanic Center.
She also is program committee chair for the Concord Neighborhood Center, which provides social services, children's programs, education, health and fitness information, recreational activities and cooperative programs with other agencies.