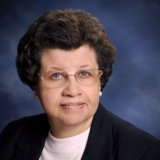 Awards
IUAA President's Award (2017)
Dr. Charlie Nelms Alumni Award (2014)
About Kay Francis Lindsey
Kay Frances Lindsey, is an alumna of IU Southeast in New Albany. She received both her bachelor's and master's degree in education from IU Southeast.
Lindsey, a retired educator from Jeffersonville, Indiana, is a co-founder and charter member of the New Albany, Indiana/Louisville, Kentucky, (Kentuckiana) Chapter of the Neal-Marshall Alumni Club. Founded in 1980, the Neal-Marshall Alumni Club is named for the first African American male and female graduates of IU. As charter secretary and now treasurer, she has helped the chapter launch a series of engagement programs that have enhanced the interests of the Neal-Marshall Alumni Club and the IU Alumni Association. Under her leadership, the Kentuckiana Chapter's annual Evening to Remember recognition dinner has raised more than $7,000 for student scholarships.
"Kay has a servant's heart," said Clarence Boone Jr., BA'81, MPA'84, IUAA associate director of alumni communities, who nominated Lindsey for the President's Award. "She is the 'behind-the-scenes' catalyst that ensures the success of many programs and initiatives."