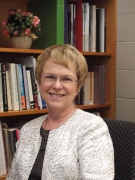 Awards
Bicentennial Medal (2021)
IUPUI Spirit of Philanthropy Award (2013)
About Gail Plater
Gail Plater joined the School of Liberal Arts administration in 1997, following 15 years with the IU Foundation where she was among the first staff in the Indianapolis office and developed the first annual giving campaign for IUPUI. While with the IU Foundation, she helped initiate the IUPUI Faculty/Staff Campus Campaign (now the Impact IUPUI Campaign) which has generated millions for IUPUI in its more than 20 year history and is the only campaign of its kind in the IU System.
In her capacity as Assistant Dean for Development and External Affairs, Plater was responsible for the School of Liberal Arts' fundraising efforts, external and internal communications, and alumni programs. Under her leadership, the School of Liberal Arts raised more than $10 million during the The Future is Here campaign (1997-2003), received its first endowed chairs, and created the Masarachia Scholars Program with the School's first million dollar gift. Plater professionalized the Liberal Arts fundraising program, enhancing the academic unit's public presence and communication with donors, alumni, faculty, staff, friends, and students through print publications and web-based media. Included among the numerous events she directed are the John D. Barlow Lecture in the Humanities, the Sabbatical Speaker Series--a public forum for sharing faculty research--and the Joseph T. Taylor Symposium. The Taylor Symposium is a signature event honoring Liberal Arts' first dean which for more than 20 years has addressed issues of interest to urban communities. In 2003, Plater played a central role in the development of the Institute for American Thought, bringing together Liberal Arts' concentration of resources and scholarship focusing on American thought and culture under one administrative umbrella.
As she facilitated others' philanthropic hopes and dreams, she was a model donor herself. Creating with her husband, William Plater, the Millennium Chair of Liberal Arts during IUPUI's first billion dollar campaign, Gail inspired others with her leadership gift and vision for liberal arts education in the future. In recognition of the Plater's commitment to IU, Chancellor Emeritus Gerald Bepko and his wife, Jean established the Gail M. and William M. Plater International Scholarship for Civic Engagement.
During her career at IUPUI, Plater served the campus on a broad range of committees including both the 20th and 40th Anniversary Steering Committees. She represented the school and university in Indianapolis, developing relationships with organizations like the Indianapolis International Center, and abroad, building the relationship between Liberal Arts and Moi University, Kenya. A key participant in the School's strategic planning initiatives (2006, 2010), Plater contributed to the School's direction in a multitude of areas, impacting both Liberal Arts and IUPUI with her service. She retired in 2012.