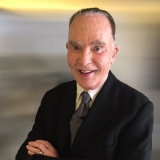 Awards
Bicentennial Medal (2020)
Honorary Degree (2017)

L.H.D.
Doctor of Humane Letters
Indianapolis, Indiana
IUPUI Spirit of Philanthropy Award (2012)
About Randolph Deer
An IU alumnus with a B.S. in Science, Randolph H. Deer is chairman and owner of the Pepsi Cola Bottling Company of Logansport and South Bend and owner of Endangered Species Chocolate.
He is an important figure in Central Indiana who has authored six books and created more than 100 paintings. Deer has distinguished himself as a philanthropist supporting educational institutions and social service, arts, health and youth organizations in Indiana, Ohio, and Arizona. He co-founded the Back Home Again Foundation in 1998, which provides grants to nonprofits working in hunger relief, conservation, homelessness, at-risk youth, the environment and the arts.
Deer has been a longtime advocate of Indiana University, most especially through his involvement in art for the past three decades. He served as an inaugural member of the Herron School of Art and Design Dean's Advisory Board. Deer has generously supported Herron's capital campaign, provided scholarships for both minority students and the study abroad program as well as endowing the Randolph H. Deer Professorship in Painting. He received a nomination for the IUPUI Spirit of Philanthropy Award from the Herron School of Art and Design, and was bestowed that award in 2012.
In 2016, Deer became the third alumnus to receive the Culver Summer Schools and Campus Distinguished Service Award. The honor was instituted in Culver Academies' centennial year (1994) as a way to pay special tribute to those summer alumni and alumnae who have distinguished themselves following their time at Culver. Along with assisting financially with the renovation of Culver's Naval Building, Deer has also donated towards with the renovation of the Memorial Chapel and the Crisp Visual Arts Center.
Indiana University awarded Deer with an Honorary Doctor of Humane Letters in 2017 at its IUPUI spring commencement ceremony for outstanding achievement in the arts and humanities, and for community engagement and public service.
In 2020, Deer was presented the Bicentennial Medal for his distinguished service to Indiana University.