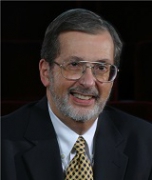 Awards
President's Medal for Excellence (2019)

Indianapolis, Indiana
Presenter: Nasser H. Paydar
IUPUI Spirit of Philanthropy Award (2012)
About Norman Lefstein
Professor Lefstein served as dean of the law school from January 1, 1988 until June 30, 2002. During his tenure, he enhanced financial support for faculty research and scholarship and promoted the expansion of a number of the school's activities, including international programs, clinics, internships, and pro bono opportunities for students. He also spearheaded the fundraising and planning for the school's $37 million building, Lawrence W. Inlow Hall, which was dedicated in 2001.
Prior to becoming the law school's dean, Professor Lefstein was for 12 years a faculty member at the University of North Carolina School of Law in Chapel Hill. He also has held visiting or adjunct appointments at the law schools of Duke, Northwestern, and Georgetown. His other positions have included service as director of the Public Defender Service for the District of Columbia, an Assistant United States Attorney in D.C., and a staff member of the Office of the Deputy Attorney General of the U.S. Department of Justice. Earlier in his career, he was in private practice in a law firm and directed a large-scale Ford Foundation research project in which legal representation was furnished to juveniles in three metropolitan cities.
His professional activities have included serving as Chairman of the American Bar Association Section of Criminal Justice and as Reporter for the Second Edition of ABA Criminal Justice Standards Relating to The Prosecution Function and The Defense Function, Providing Defenses Services, and Pleas of Guilty. Professor Lefstein also has served as Chairman of the ABA Committee on Criminal Justice Standards. During the 1990's, Professor Lefstein was chief counsel for the Subcommittee on Federal Death Penalty Cases, and in this capacity directed the preparation of Federal Death Penalty Cases: Recommendations Concerning the Cost and Quality of Defense Representation, which was approved by the Judicial Conference of the United States. In addition, he often testifies in court proceedings as an expert witness on subjects such as professional ethics and defense representation in criminal cases.
During 2007, Professor Lefstein completed 17 years as chairman of the Indiana Public Defender Commission, a position to which two Indiana governors had appointed him. He also served nine years as chair of the ABA's Indigent Defense Advisory Group, which oversees the Association's efforts nationwide to strengthen legal services for the poor in criminal cases.
Professor Lefstein was honored in 2001 as a Distinguished Graduate of the University of Illinois College of Law. In 2002, upon his retirement as dean, Professor Lefstein received the Sagamore of the Wabash Award from Indiana Governor Frank O'Bannon. For 2005, Professor Lefstein received The Champion of Indigent Defense Award from the National Association of Criminal Defense Lawyers.