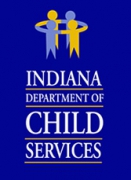 Awards
IUPUI Spirit of Philanthropy Award (2018)
IUPUI Spirit of Philanthropy Award (2011)
About Indiana Department of Child Services
In the early 2000s, Indiana's child protective services system was in trouble. Indiana was considered one of the worst states in terms of providing child welfare services. In 2005, then-governor Mitch Daniels signed an executive order to create the Department of Child Services (DCS) in the hopes of mitigating the situation. The DCS partnered with IUPUI's School of Social Work to create a Child Welfare Education and Training Partnership. The program started with a group of Master of Social Work (MSW) students, but quickly expanded to include BSW students and provide training to DCS employees.
Bolstered by the efforts of the child welfare case workers coming through the partnership, the DCS now protects children who are victims of abuse or neglect and strengthens families through services that focus on family support and preservation. The Department also administers child support, child protection, adoption and foster care throughout the state of Indiana.
In 2011, the Department of Child Services was awarded an IUPUI Spirit of Philanthropy Award in recognition of the partnership's success. At the ceremony, Governor Daniels extolled the achievements of the partnership, including transforming Indiana's child protective services into some of the best in the nation.