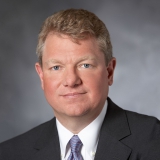 Awards
Bicentennial Medal (2019)
Distinguished Alumni Service Award (2018)
Kelley School of Business Academy of Alumni Fellows (2015)
About Curtis A. Ferguson
Curt Ferguson is a 32-year veteran of The Coca-Cola Company. He currently serves as the President of the Middle East and North Africa Business Unit and is responsible for all aspects of The Company's business in 33 countries, which annually sells over 1.6 billion cases of Coca-Cola products to more than 768 million consumers. The area comprises Morocco to Egypt in North Africa and Ghana in West Africa through the entire Middle East as well as in Central Asia in Pakistan and Afghanistan.
Curt began his professional career in 1980 with Procter & Gamble in Cincinnati, Ohio, in the Marketing Department. After three years, he joined Coca-Cola USA in Atlanta, working sales routes in the Southeastern U.S. After transferring to Asia in 1988, he was promoted to a variety of management and bottler positions in subsidiaries of The Coca-Cola Company in Thailand, Indonesia, Singapore, Malaysia, Cambodia, Nepal, Sri Lanka, and Vietnam. He was responsible for The Coca-Cola Company's reintroduction in Cambodia and Vietnam, where he led the construction and operation of three new factories.
In July 2000, he assumed the position of managing director of The Coca-Cola Bottling Company of Egypt. During this time, Curt was an active member of the local community, serving as chairman of the Community Services Association board, chairman of the Cairo American College board, a board member of the Bilateral Fulbright Commission and vice president of the American Chamber of Commerce in Egypt. In 2002, Coca-Cola Egypt was presented with the U.S. State Department Award for Corporate Citizenship by then-Secretary of State Colin Powell for its outstanding contributions to the community.
In 2002, Curt was promoted to Senior Region Manager for West Africa, based in Côte d'Ivoire. In late 2003, he became Senior Regional Director for the Western Africa Region based in Casablanca. In January 2005, he was appointed President of the North and West Africa Division, based again in Cairo. In 2007, he became President of the North and West Africa Business Unit, responsible for 27 countries. In 2009, the business unit's role was further expanded to include Nigeria, Africa's most populous country. In 2011, his portfolio continued to grow to include the entire North African & Middle East (MENA) region - representing a total of 33 countries and which directly employs more than 35,000 system employees and provides indirect employment for 350,000 individuals.
Under Curt's leadership, the MENA Business Unit was awarded the Woodruff Cup for 2012. This is The Coca-Cola Company's most coveted and prestigious award for business performance and leadership in the community, and recognizes the very best Business Unit in the entire Company. In both 2013 and 2014, Curt was ranked the 9th most influential executive in Forbes Middle East's Top 100 Executives list.
Currently, Curt serves as Vice Chairman of the U.S.-Egypt Business Council and a board member of the U.S.-Pakistan Business and U.S.-Israel Business Councils. He is the Executive Vice President of the American Chamber of Commerce in Egypt and Chairman of the Community Services Association. In addition, Curt serves on the Boards of The Coca-Cola Africa Foundation, the North African Bottling Company (Morocco), the Fruital Bottling Company (Algeria), National Beverage Company (Palestinian), Rani Refreshments (UAE), and Waha BV (Iraq). In recognition of his service to the Sigma Chi Fraternity, Curt was recognized as a Significant Sig.
Curt serves on the Kelley School's Dean's Council as well as the Advisory Board for its Institute for International Business. He also was recently inducted into the Indiana University President's Circle.
Curt holds a BS degree with majors in Finance and Management from the Kelley School and is a graduate of the Executive Development Program at Stanford University and the Executive Management Program conducted by Wharton and Emory Universities. He is married to Lisa and has three children, including his middle son Patrick, who is a graduate of Indiana University and a current student in the Kelley School's MS in Marketing program.