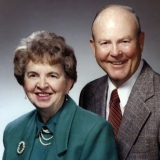 Awards
Chancellor and Provost Medallion (2019)

IUPUI Chancellor's Medallion
Indianapolis, Indiana
IUPUI Spirit of Philanthropy Award (2009)
About Beulah Chanley Cox
Beulah Chanley Cox worked as a philanthropist and businesswoman. She graduated from Indiana Central Business College. She married her high school sweetheart, Jesse H. Cox, in 1939, the same year as he enrolled in Indiana University.
In 1946, the couple founded J.H. Cox Manufacturing Co., which supplied Venetian blinds to retailers Sears & Roebuck, L.S. Ayres and William H. Block. Mrs. Cox served as an executive of that company. Shortly after founding J.H. Cox Manufacturing, the couple bought a small bankrupt company and started Aero Blind & Drapery Inc., which grew over several decades to become a thriving Indianapolis firm with 920 employees and annual sales of $30 million. Through other ventures, Jesse H. Cox Inc. and B.J. Realty Inc., the Coxes began farming nearly 1,500 acres in Boone, Hamilton and Putnam counties, and buying and managing commercial real estate rental property. Mrs. Cox served on the boards of five corporations, including serving as secretary and treasurer of Aero Drapery for 36 years. After retiring in the early 1980s, she was treasurer of B.J. Realty Inc.
Their many successful business ventures allowed the Coxes to financially support both their community and Indiana University. In 1999, Cox and his late wife, Beulah, donated 126 acres and three homes to the Hamilton County Parks Department to create the Coxhall Gardens in Carmel, Ind. Early funds donated by the Xoces were used to develop the Arboretum on the site of the old Memorial Stadium at IU Bloomington. Their donated funds were also used to build and maintain the Jesse H. and Beulah Chanley Cox Pavilion in the Arboretum. Both the pavilion and the Arboretum were named for the Coxes in 1997. The couple's generosity also established the Jesse H. and Beulah Chanley Cox Scholars program, which provides scholarships for working students on IU's Bloomington and Indianapolis campuses. The $85 million gift was the largest ever received by IU from individuals, and also the largest individual gift for scholarships. In 2019, Beulah was honored with a posthumous IUPUI Chancellor's Medallion in recognition of her significant philanthropic endeavors and service to the community and university.