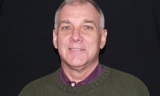 Awards
IUPUI Spirit of Philanthropy Award (2018)
IUPUI Spirit of Philanthropy Award (2007)
About Tom Vujovich
Tom O. Vujovich's dedicated support has played an invaluable role in IUPUC's growth and success. As vice chair of the IUPUC Board of Advisors, Mr. Vujovich led the creation and implementation of a successful new committee structure for the board. He also spearheaded the IUPUC Chancellor's Circle, a new giving society. IUPUC has benefited from his personal generosity and that of the business he co-owns, Pentzer Printing.
A Minnesota native, Mr. Vujovich earned his master's degree in public affairs from Indiana University and has had a distinguished career in this field, currently serving as president of the Columbus Redevelopment Commission. He has been president of the Columbus Plan Commission and the Columbus/Bartholomew Joint Plan Commission; chairman of the Columbus/Bartholomew Telecommunications Commission; vice president of the Columbus Board of Zoning Appeals; United Way campaign chairman; and Columbus Rotary Club president.
Vujovich and his wife, Tina, have consistently supported IUPUC and multiple areas of IU, including major gifts supporting the Vujovich Scholarship in Engineering and the Reach Your Dreams scholarship.