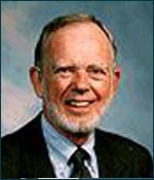 Awards
School of Medicine Distinguished Alumni Award (2015)
About Charles M. Clark Jr.
Dr. Clark received his bachelor's degree from IU in 1960 and his doctor of medicine in 1963. A professor emeritus of medicine at IUSM, Dr. Clark joined the IU faculty in 1969 and was active in diabetes research and clinical care. In 1977, he established the NIH-funded IU Diabetes Research and Training Center, which was funded for the next 25 years and was the hub for hundreds of publications, scores of research grants and an incubator for talented investigators. Among his many services to the university, Dr. Clark served as associate dean for continuing medical education.
In 1996, Dr. Clark was asked to design and chair the newly created National Diabetes Education Program, whose job it was to disseminate the results of the Diabetes Control and Complication Trial to patients and integrate them into clinical care. That experience motivated him to work in developing countries to improve diabetes care, including the recent development of two diabetes centers in China. He is Chief Doctor at the new Sino-US Diabetes Center in Hangzhou, China, and is also an active blogger and diabetes champion for the BMJ's doc2doc diabetes website.