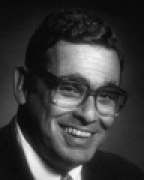 Awards
School of Medicine Distinguished Alumni Award (2014)
About William E. Segar
A member of the IU School of Medicine class of 1947, Dr. William Segar is a pediatric nephrologist and former Chairman of Pediatrics at the University of Wisconsin School of Medicine and Public Health from 1975-1984. He became an expert in fluid and electrolyte metabolism, pediatric fluid therapy and dialysis, and was a driving force in building the UW's pediatric renal service.
Dr. Segar's path to medicine started early, as his father was the first pediatrician in Indiana, which made a career in pediatrics his goal from a young age. He began his undergraduate degree at Indiana University as the second World War began, and finished medical school having never entered active duty. Dr. Segar fondly remembers his intern year of his residency, where he "lived at the hospital" and enjoyed the camaraderie of his colleagues and the busy pace of his work. Following his first intern year, he finished his residency at the University of Illinois, spending much time in laboratory settings doing research in nephrology.
Although he was planning on going into practice with his father following his training, Dr. Segar was given the opportunity to complete a fellowship at Yale to study body fluid physiology and therapy. He joined the army during the Korean War and worked at dialysis centers on the east coast, learning the process of artificial kidney dialysis, a treatment yet to be tested in the field of pediatrics.
Returned to Indiana after the war in 1955, Dr. Segar found that the faculty in the pediatric department was growing rapidly and the school's research reputation was blossoming. He worked with colleagues who had similar training in fluid therapy, and together they began publishing papers evaluating the treatments they'd previously studied on pediatric patients. These publications are considered some of the most important publications of the second half of the century, and were monumental in parenteral (IV) fluid therapy becoming standard treatment for pediatric renal conditions. Also at IU, Dr. Segar began his teaching career. He served on the curriculum committee, and was one of three physicians to spearhead the idea of recruiting clinicians to teaching the basic science courses of the first two years of medical school, instead of researchers.
In 1967, Dr. Segar and his family moved to Minnesota where he began to work for the Mayo Clinic, which was positioned to open its own medical school. He served as the Head of Development of Curriculum, in addition to continuing his clinical practice. Mayo had less basic scientists employed than clinicians, so plans for the teaching of medical students was centered around those who actively saw patients on a regular basis.
Dr. Segar moved again to the University of Wisconsin Department of Pediatrics, which culminated in his chairmanship from 1974 to 1984. During this time, the department saw a large rise in numbers of patients, which was essential for the University's needs as a teaching hospital. Dr. Segar also oversaw the creation of a sports medicine program that became housed in pediatrics, which monitored athletes from UW.
After stepping down as chairman, he was increasingly familiar with the gaps between medical school curriculum and realistic clinical needs of physicians. He took two years immersing himself in the curriculum and student life: sitting in on classes, socializing with students and their families, and evaluating the usefulness of National Board Exams. His active participation in evaluating the school's medical education led to the creation of a mentor program, with a new faculty members integrating themselves into each class year.
Dr. Segar had a passion for his students and their medical futures as well as the future of pediatric research that continued into his retirement, and did not go unrecognized by his colleagues. In 1987 the Midwest Society for Pediatric Research (MWSPR) awarded him the Founders Award for outstanding service to pediatric research and in 2012 the MWSPR created an award in his name, the William E. Segar Award.