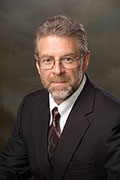 Awards
Honorary Degree (2015)

L.H.D.
Doctor of Humane Letters
IU East Commencement Ceremony
Richmond, Indiana
Presenter: Michael A. McRobbie
About James Steck
James L. Steck holds an MS in Computer and Information Science and a BS in Computer Engineering, both from The Ohio State University. He has taught undergraduate and graduate courses for the College of Engineering, the Mathematics department, and the Computer Science department at OSU.
Steck worked for The Dayton Power & Light Company in Dayton, Ohio, where over a seven year period he managed the Production Fuels division, the IT/Data Processing Center, the Process Computer Systems department, and the Management Information Systems department. From 1976 through 1983, he also managed several real-time computer system projects in operations and production areas of the Company.
In 1985, Steck worked for TRW Inc., Aerospace and Defense Systems Division, in Dayton, Ohio, where he held the position of project manager and was responsible for the engineering and development of an electromagnetic simulation system utilized by the United States Air Force to test integrated communication, navigation, and identification avionics Systems for a variety of military platforms.
James L. Steck is currently Chancellor Emeritus of Ivy Tech Community College Richmond. He served as Chancellor from 1997 until his retirement in 2012. He previously held the positions of Executive Dean, Dean of Instructional Affairs, and Division Chair for Technology for the College. As chancellor, Steck expanded programming as well as the Ivy Tech's facilities. As Ivy Tech Richmond grew, he managed operations in leased spaces in Richmond and Connersville. With the opening of Johnson Hall in January of 2006, Steck was able to consolidate the Richmond operations onto the one campus.
Steck has been an active community member and has dedicated his time and talents to many boards and organizations. While chancellor at Ivy Tech, Steck served on the IU East Board of Advisors, the Richmond/Wayne County Area Chamber of Commerce Board of Directors, the Richmond/Wayne Chamber Center for Excellence Board of Directors, the Greater Richmond Progress Committee, and the Wayne County Emergency Management and Response Committee.
In honor of his continued service, Steck has received the National 1997 Shirley B. Gordon Award of Distinction for College Administrators (Phi Theta Kappa National Honor Society), the 2005 NAACP President's Award, the 2005 Wayne County Vision Economic Vitality Award, and the Richmond/Wayne County Chamber of Commerce 2005 Art Vivian Distinguished Community Leader Award. And, in 2015, Indiana University awarded Steck with an Honorary Doctor of Humane Letters for his outstanding achievement in the arts and humanities, and for his commitment to community engagement and public service.