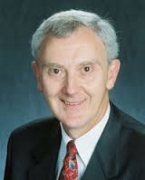 Awards
Luddy School of Informatics, Computing, and Engineering Distinguished Alumni Award-Distinguished Service Award (2015)
IUPUI Spirit of Philanthropy Award (2002)
About H. Patrick Callahan
Pat Callahan is a 1969 graduate of Indiana University and received his JD from the University of Michigan Law School in 1972. He is a partner at Faegre Baker Daniels in Indianapolis, where he provides legal and business counsel to entrepreneurs, corporations, and other business and government entities. His legal expertise and his extensive experience as a corporate director make him uniquely valuable not only in legal matters but as a constructive, driving force in Indiana's growing entrepreneurship and economic development.
In addition to his career in law, he is a founding director and executive committee member of TechPoint, is a founding member and former executive officer of Indy Partnership (formerly Indianapolis Regional Economic Development Partnership) and was a national executive council member of the Indiana University Alumni Association.
Callahan is a founding member and former chair of the School of Informatics and Computing's Dean's Advisory Council. Along with Mary Delaney, he co-chaired the School of Informatics's first national campaign and surpassed an ambitious goal of $10 million in funding for the school's new building.