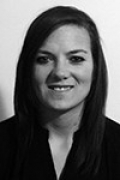 Awards
IUPUI Athletics Hall of Fame (2015)
About Jamie Farrell
Jamie Farrell (2006-10) finished her four-year career as the best goalkeeper in the history of the women's soccer program and arguably the best player in school history. The St. Louis-native powered the IUPUI women's soccer program to an impressive four-year stretch that included a pair of Summit League titles and the Jaguars' first-ever trip to the NCAA Tournament. After a 13-win season as a junior in 2008, Farrell led the Jaguars to a school record 17 victories as a senior, including an NCAA berth. A three-time All-Summit League performer, Farrell was named the league's Tournament MVP her senior season. She was also a nine-time Summit League Athlete of the Week and earned the league's Athlete of the Month award in August/September 2006 and November 2009.
She holds the program's single-season marks for shutouts, saves, save percentage, wins, goals against average, minutes, starts and appearances. She graduated as IUPUI's all-time leader in shutouts (21.0), saves (394), save percentage (.835), wins (37), goals against average (1.09), minutes (6438:27), matches (76) and starts (72). In addition, Farrell was the recipient of the Mel Garland Distinguished Student-Athlete Award, the highest honor bestowed by IUPUI Athletics.
Farrell is a 2010 graduate of the Kelley School of Business with majors in marketing and international business. She is the second-ever inductee from the women's soccer program, joining Karrie Reising (2007 inductee).