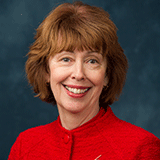 Awards
Titled Professor (2023)

Sally Reahard Endowed Chair Emerita
Titled Professor (2015)

Sally Rearhard Endowed Chair
About Susan J. Pressler
Dr. Pressler has a longstanding history as a nurse educator and researcher. She has taught students at the baccalaureate, master's, and PhD levels. She is Susan Rearhard Endowed Chair in Nursing at the IUPUI School of Nursing. Prior to this position, she was the Program Director of the University of Michigan's Hillman Scholars Program in Nursing Innovation, a program funded to educate a new generation of nurse scientists prepared to conduct high-impact research.
Dr. Pressler has served in many leadership positions, including Chairperson of the Council on Cardiovascular Nursing, American Heart Association (2007-2009) and a member of the Executive Committee, Heart Failure Society of America (2002-2008). She is currently a member of the American College of Cardiology Foundation/American Heart Association Task Force on Practice Guidelines.
Dr. Pressler is well known for her program of research focused on improving quality of life and reducing mortality and unnecessary hospitalizations among patients with heart failure. She has conducted many studies about problems that diminish quality of life and increase mortality in heart failure, including lack of medication adherence, nutritional deficits, and cognitive dysfunction. She is now testing innovative interventions to improve memory, enhance quality of life, and lower healthcare costs of patients with heart failure. Dr. Pressler's work has been widely disseminated through publications in journals such as Nursing Research and Journal of Cardiac Failure and national and international presentations.