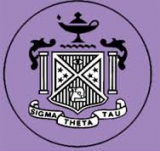 Awards
IU Historical Marker (2020)
IUPUI Spirit of Philanthropy Award (1992)
About Sigma Theta Tau International
The Honor Society of Nursing, Sigma Theta Tau International is the second-largest nursing organization in the world with approximately 135,000 active members. It was founded in 1922 at what has become the Indiana University School of Nursing. The founder's hoped to bring recognition to nursing as a science through their society. In 1936, it became the first organization in the U.S. to fund nursing research.
Indiana University dedicated a historical marker in 2020 about Sigma Theta Tau International. The marker text follows:
In 1922, six nursing students at the IU Training School for Nurses in Indianapolis founded Sigma Theta Tau, an honor society to recognize scholarship and promote leadership in nursing. By 1929, the society included six chapters in the Midwest and held its first national convention in Indianapolis. To further its mission, the society awarded the nation's first nursing research grant in 1936 and has supported research ever since. Membership expanded significantly after World War II, reaching 6,000 by 1962. In 1967, the society began publishing its own scholarly journal, Image, later renamed the Journal of Nursing Scholarship. National headquarters were opened in 1974 at the IU School of Nursing. In 1989, the society moved into the International Center for Nursing Scholarship, and began inducting international chapters, demonstrating its global reach and influence. By 2018, Sigma Theta Tau International had expanded to include over 500 chapters and 135,000 active members.