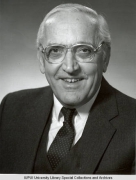 Awards
IUPUI Spirit of Philanthropy Award (1989)
About Howard G. Schaller
Howard Schaller was the former Executive Vice Chancellor and Dean of the Faculties at IUPUI and Professor Emeritus of Business Economics and Public Policy in the Indiana University School of Business. He received a baccalaureate degree and Ph.D. in economics from Duke University and a master's of economics from Northwestern University. He was a member of Phi Beta Kappa and Beta Gamma Sigma scholastic honorary societies.
Dr. Schaller joined the Indiana University School of Business on the Bloomington campus in 1964 as a professor. He served as Executive Associate Dean of the School of Business prior to joining the IUPUI administration in 1982. Prior to IU, he served as Professor of Economics at Tulane University from 1953 to 1963. During his time at Tulane, he was also chair of the Department of Economics and Dean of the School of Business.
Among Dr. Schaller's many accomplishments as a teacher, researcher and administrator were his roles in developing institutions. These included the Indiana University School of Business, a number of educational ant cultural institutions in Southeast Asia, the IU Center of Philanthropy, and the IUPUI campus.
He played a significant role in the emergence of the Kelly School of Business as one of the nation's premier business schools. He led academic programs on the Bloomington campus as Executive Associate Dean, and earlier he served as the Coordinator of Research and Director of the International Business Research Center. He also helped establish the Kelly School on the Indianapolis campus. In the early years, many faculty, including Dr. Schaller, would commute from Bloomington to teach or work in Indianapolis. Under his leadership, the School of Business at IUPUI developed a strong academic program of its own while remaining a fully integrated and equal partner with the faculty operating from the Bloomington campus. The faculty grew from only a few full time members in the 1970's to over 40 full-time currently. As a researcher, Dr. Schaller made major contributions to the study of public finance, regional economic analysis, and business economics. He served as a consultant to government, business and governmental institutions in the US and abroad. He was the author of numerous articles, reports, monographs and books on a variety of business, policy, international and educational topics.
From 1969 to 1973, Dr. Schaller took leave from Indiana University and served as a program officer for the Ford Foundation. He had primary responsibility for Ford Foundation activities in Southeast Asia during the height of the Vietnam War era in 1971-73. He was responsible for Ford Foundation work related to art and archeology, agriculture, economic development, education, law, and public management among other specialty programs. He lived in Thailand, which served as his base of operation, and maintained offices in Malaysia and the Philippines. After returning to Indiana University, Dr. Schaller continued to work with governmental and educational institutions in Thailand, especially the National Institute of Development Administration, where he served as Chief-of-Staff from 1968-69. Dr. Schaller was awarded the Order of the White Elephant by the King of Thailand in 1990 in appreciation for his work in that nation.
As chief academic officer of the IUPUI campus, Dr. Schaller played a key role in the emergence of IUPUI from its early role as a regional campus into a major urban university. He was involved in the recruitment and hiring of faculty during a period of rapid growth and took steps to ensure that only persons who could contribute to IUPUI's mission as a research university as well as a teaching institution would be hired. As a visionary, Dr. Schaller insisted that IUPUI remain accessible to citizens of central Indiana, especially those who had been historically under-represented even as it developed strong research and professional service programs. Many services designed to help returning adults, minority students, women and economically disadvantaged applicants succeed in higher education were implemented during his tenure as Executive Vice Chancellor. He helped plan much of the physical expansion of the campus that later occurred in the 1980's, including the relocation of Purdue programs to the downtown campus and the IUPUI University Library. He helped create and served as the founding Director of the nationally prominent IU Center on Philanthropy and the IU Center on Southeast Asia, both of which are based at IUPUI.