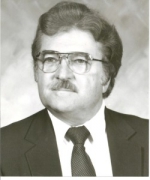 Awards
IUPUI Spirit of Philanthropy Award (1989)
School of Optometry Foley House Basement Key Award (1988)
About R. Lewis Scott
R. Lewis Scott was a pioneer of optometry in Indiana and the United States. His visionary leadership shaped the scope and mode of optometric care. World War II was declared just as Scott was graduating from high school. He attended St. Mary's University while waiting to begin his military service.
Scott enlisted into the Army Air Corps. He served in England and France, flying the A-20 Havoc and A-26 Invader on missions over Germany. His plane was shot down in 1945 and he was captured by the Germans, who imprisoned him for the duration of the war.
After the war, Scott finished his education at St. Mary's and then went to Pennsylvania College to study optometry. He graduated an O.D. in 1950. He settled in Hartford City, IN, where he entered into practice with other optometrists and helped develop the Low Vision Centers of Indiana. The Low Vision Centers help the partially-blind and have grown to serve patients from throughout the U.S. and the world.
Scott was a great advocate for optometry and lectured widely around the U.S. and the world. He was appointed five times by three different Indiana governors from both political parties to serve on the Indiana Optometry Boards. Following the enactment of new therapeutic legislation in Indiana, he was called upon by Governor Evan Bayh to serve as Chairman of the OLDPAC committee to implement the new law. He was awarded a Sagamore of the Wabash by the Governor of Indiana and Honorary Attorney General Award by the Indiana Attorney General for his work in healthcare licensing.
Scott was a Fellow of the American Academy of Optometry and member of the American Optometric Association. In 1984, the AOA selected him as the National Optometrist of the Year. He was also a Past President of the Indiana Optometric Association. He is also the only doctor of optometry to twice be selected as the Indiana Optometrist of the Year. The IOA has also awarded him the Distinguished Service Award, two Meritorious Service Awards and in 1993 presented Scott with the IOA's Lifetime Achievement Award. He also chaired multiple fund raising campaigns for Indiana University School of Optometry.