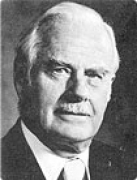 Awards
IUPUI Spirit of Philanthropy Award (1989)
About Harold R. Woodard
Harold R. Woodard was an adjunct professor of law at the Robert H. McKinney School of Law and a lawyer in Indianapolis. He was a graduate of Harvard College and Harvard Law School. Woodard was a WWII veteran, during which he served as an Anti-Submarine Patrol Officer of the Naval Air Corps.
During his law career, Woodard focused on intellectual property law, including patents, trademarks, and copyrights. He joined the law firm of what is now Woodard, Emhardt, Moriarty, McNett & Henry, LLP, in 1946. He became a senior partner in 1957. In addition to serving as president of the Seventh Circuit Bar Association, he became the first patent lawyer from Indiana to be inducted into the American College of Trial Lawyers. He was named as one of three giants of the U.S. trademark bar by the Trademark Reporter, the official journal of the International Trademark Association. Woodard maintained his practice into his final years, working a 5-day work week into his nineties.
Woodard taught intellectual property law at the IUPUI School of Law for 32 years. He lectured at seminars throughout the Midwest and authored several articles on intellectual property law. Woodard awarded more than fifty scholarships in his name while a professor and has an endowed professorship in his name. Additionally, the Woodard Library Room is named in his honor.