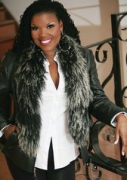 Awards
Distinguished Alumni Service Award (2015)
About Angela M. Brown
An international singing sensation, Angela Brown has appeared in performing venues around the world, including the Metropolitan Opera Company, Vienna Staatsoper, Teatro La Fenice and the John F. Kennedy Center for the Performing Arts. Her studies at IU with Jacobs School of Music Distinguished Professor Emerita Virginia Zeani helped catapult her to artistic success.
Brown's Metropolitan Opera debut in the title role of "Aida" launched her highly acclaimed career. Since then, she has guest starred on Garrison Keillor's "A Prairie Home Companion" radio show and collaborated and appeared with symphonic pops legends Marvin Hamlisch, Jack Everly and Erich Kunzel while traveling the world for classical performances.
Brown has collected a bevy of honors and awards, including the 2009 Indiana Governor's Arts Award and the IU African American Arts Institute's inaugural Herman C. Hudson Alumni Award in 2006. She is a member of the Indianapolis Public Schools Hall of Fame. She is a spokeswoman for the United Negro College Fund and has given free concerts from her opera theater production titled "Opera … From a Sistah's Point of View."
Brown selected the IU Archives of African American Music and Culture as the repository for her collected papers and an array of items related to her career. She served as a vocal coach for the IU Soul Revue from 1991 to 1997 and is a co-host with the Indianapolis Symphony for its acclaimed Yuletide pops extravaganza.