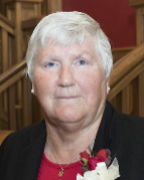 Awards
Leanne Grotke Award (2015)
About Donna Sullivan
Donna Sullivan began her passion for athletics at New Orleans High School when she was barred from participating in basketball competitions for fear of getting the boy's team in trouble. When she arrived on Bloomington's campus in 1966, this same issue no longer stared her in the face as she competed in volleyball, softball and field hockey on the university's club teams. Although she could now compete, equality was far from the norm as athletic scholarships for females were not available and all female club teams shared one set of uniforms. Through this inequality, Donna became a member of the Women's Recreation Board to improve athletic competition and facilities for female athletics.
After her playing career ended at Indiana University, Donna accepted a teaching and coaching position at Seymour High School in 1971 with an opportunity to do something not done prior, build an athletic program for girls. At Seymour High School she coached 3 varsity sports: volleyball, track and basketball until 1979. One year prior, in 1978, she assumed the title of Administrative Assistant to the Athletic Director, effectively ending her reign as Track coach to allocate more time to Athletic Administration. The same situation occurred in 1990, where Donna resigned as the volleyball coach to devote more time to basketball and her ever growing responsibilities in athletic administration.
Donna eventually retired from Seymour High School in 2003, focusing much of her current time volunteering with local organizations. She left Seymour with many accolades as an Athletic Director, including the Indiana Athletic Director of the Year nominee in 1982 and the first female recipient of the Charles F. Maas Distinguished Service Award for Interscholastic Athletic Administration in 1992. Her coaching career compiled 22 sectional championships, 11 regional championships, 3 semi-state championships, and 7 conference championships between track, volleyball and basketball.