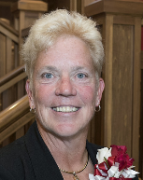 Awards
IUB Athletics Hall of Fame (2016)
Leanne Grotke Award (2015)
About Diane Stephenson
Diane Stephenson became the first female to receive an athletic scholarship from Indiana University in 1977 to play softball. She then became the school's first softball All-American in 1981. Her team benefited from her impressive individual play, Stephenson lead her team to the Big Ten Title in 1978 and back-to-back AIAW College World Series appearances in 1979 and 1980, including a 5th overall place finish in 1979 and runner-up in 1980. Diane was the captain on that 1980 team.
After her playing career concluded, Diane accepted a job as an Assistant Coach for her Alma Mater under her coach as a player, Gayle Blevins. Then in 1987 Coach Blevins retired, choosing Diane to be her successor. In her first two seasons the Hoosiers compiled a 45-18 record under Diane's tutelage, setting an at-the-time season high 16 conference wins. She finished her career at Indiana University with a Big Ten championship, 2 trips to the NCAA tournament, and an IU Softball single-season record of 49-16 in 1994 where she was awarded with the Big Ten and Regional Coach of the Year.
Diane went on to become the Assistant Softball Coach at the University of Iowa under her mentor Gayle Blevins in 2008 and Assistant Softball Coach at Purdue University from 2010 to 2013. She is currently the Head Softball Coach at St. Joseph's College and the owner of Positive Force Fastpitch Academy.