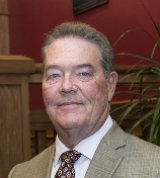 Awards
Z.G. Clevenger Award (2015)
About Bill Couch
Bill Couch began his career at Indiana University playing both basketball and football. He continued this trend until the end of 1965 where he decided to specialize being a football wide receiver for his final season in 1966. During that year Bill broke the school's single game receiving record with 10 catches for 177 yards against Iowa. That same year he came 1 catch shy of the All-Time receiving record with 45 receptions.
During his playing career he accumulated multiple awards in the classroom as well; making the Dean's List from 1964 through 1966 and being awarded to the All-Big Ten Academic List for the 1965 and '66 seasons. He also was elected into the role of president of the I-Men for the 1965-66 season, and inducted into the President's Circle.
Following his graduation from Indiana University with his Bachelor's Degree in Anatomy with a specificity in Physiology, he then attended IU's medical school graduating in 1971. He then received his Orthopedic Surgery certification in 1975, thus joining USAF Major Medical Group and beginning his practice. In 1977 he joined Orthopedics Northeast, located in Fort Wayne, IN, where he was a senior partner helping ONe grow into the 2nd largest Orthopedic group in Indiana specializing in hip & knee replacement. He retired from practice in 2010, but remains an active member in the IU Men's Club today.